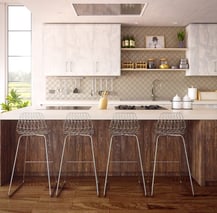 Trends come and go, and kitchen design is no exception to the ever changing rules of style. Today we're sharing a few hot kitchen design trends worth following as illustrated in this stunning kitchen renovation (see photo).
Bi-Color (AKA Two Tone) Cabinets: Painting base cabinetry and upper cabinetry in different colors adds interest to kitchen cabinetry. Consider this concept during the kitchen design process if you have a small kitchen because it visually expands the room. Tall cabinets that reach the ceiling painted the same color will make the space appear larger still.
Gold: Donald Trump and Mr. T rejoice; brass and gold are back. Gaining popularity in small doses after a long shutout from kitchen design, gold-tone metals are appearing in drawer pulls and lighting fixtures. As show here, they can be paired beautifully with nickel and chrome finishes and add great warmth among stainless steel, marble and tile.
Open Shelving: If you like this trend, most quality cabinet manufacturer can create custom shelves to match the color and style of your cabinetry. Most kitchen designers suggest open shelving be used sparingly. It's a big commitment to keep dishes as tidy as a photo stylist. Something to consider during the kitchen planning phase.
We love what we do ... and you will too.