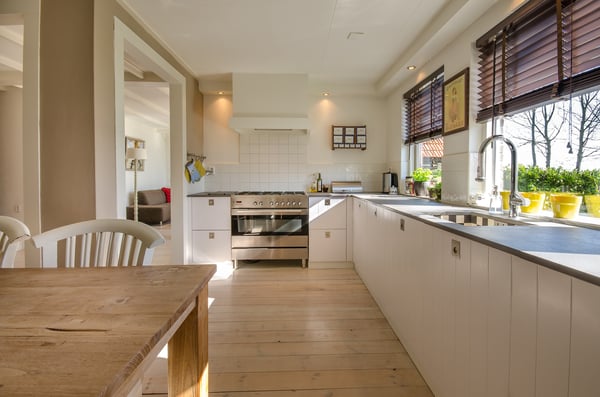 There are kitchen designs to meet nearly every budget need. Somewhere between, "Hey, I think I'll nail a shelf over there for my plate and cup" and, "Did you see the article in Architectural Digest about my new kitchen?" covers just about the full budget range for new kitchen designs. Knowing what your kitchen design budget range is, can be a very important decision.
If you trust your kitchen designer, let them know everything you are looking for in your new kitchen, including your budget range. This will help a savvy designer include all your 'must have items' into your kitchen design. A trustworthy, experienced designer knows how to stretch your kitchen design budget. They know how, and where, they can save you money.
Over the years, we have designed new kitchens for many wonderful clients throughout southeastern CT and Rhode Island. We have specialized in semi-custom and custom kitchen design for decades. Many of our clients' children have grown and become clients, too. Kitchen design trends continue to change and so, too, do our client's needs.
But over the past ten or so years, we have seen new kitchen designs shift away from traditional kitchens towards more transitional and modern styles. These newer kitchen design styles are often as much in keeping with changing lifestyles as they are with design preferences. Work stations in a kitchen? Who knew? Laptops and notepads for homework at the kitchen counter during snack time? No way! Your children have grown up and left home? Our kitchen designs can reflect your changing lifestyle and your design tastes. We can help.
We have also seen kitchen design budgets change from $100,000 and higher to a more modest budget range recently. In many cases, $30-$40,ooo is the new $100,000 kitchen. Much of this trend is a result of property values. Many of our clients want to re-invest in their homes appropriately, without going upside down on their mortgage and home value.
Smaller kitchens can present a whole different array of design challenges. Often there's a whole lot of functionality that needs be built into a smaller space or a more modest kitchen budget. Regardless of the size and scope of your new kitchen,
Designing a beautiful kitchen with the appropriate functions to make your kitchen the best that it can be takes an experienced kitchen design professional. We have the experience and sophistication to help you design a new kitchen to meet your taste, lifestyle and budget needs.
Are you ready for a new kitchen design?