Mataverde® Eurotec® Rooftop Deck

System
A whole new world of design and construction possibilities.

---
Introducing the MATAVERDE® EUROTEC® Deck System
---
Whether you are building a deck over a patio or a new rooftop deck, the Mataverde® EUROTEC® Deck System has the decking materials and structural components to make a new space for your home or building. Choose from any of the Mataverde® Premium Hardwood Decking species to make your new deck a reality.
The Mataverde® EUROTEC™ Aluminum System Profile is an innovative design and construction alternative to wood framed deck substructures. Unlike wood frame deck
construction, the Aluminum System Profile is always dimensionally stable, straight and true. This eliminates weather and climate related warping, checking, twisting
and cracking that can naturally occur with wood joists in conventional wood frame deck construction.
Printable Eurotec Brochure (1-page)
Printable Eurotec Reference Guide (6-page)
---
Advantages of the MATAVERDE® EUROTEC® Deck System
---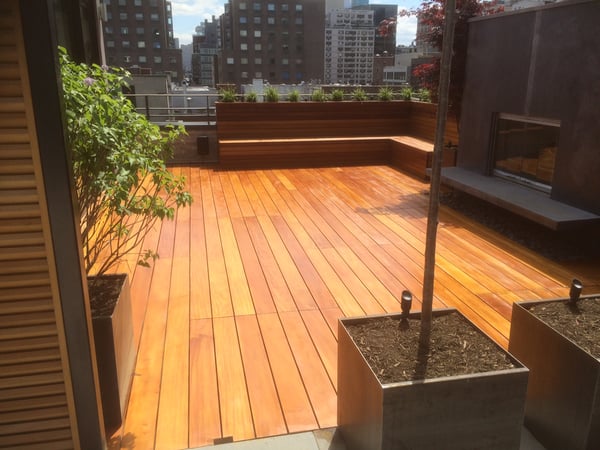 PICTURED: Garapa Rooftop Deck in NYC by the Organic Gardener
Ability to use full size decking boards for cleaner lines without the "checkerboard" pattern of 'deck tiles' whenever it is appropriate for your design.

Lightweight, low-clearance and exceptionally sturdy aluminum joists create a secure, straight and true joist system.

ClickFoot pedestals allow design of decks from 4" height above the roof or patio to over 24" total height to the top of the decking. No drilling or additional fastening is required for a quick and efficient installation.

ClickFoot pedestals require no extra fastening; simply 'click' the aluminum system profile into the pedestal.
---
LEARN MORE: MATAVERDE® EUROTEC® DECK SYSTEM
---
Find out more about all things Eurotec at MataverdeDecking.com: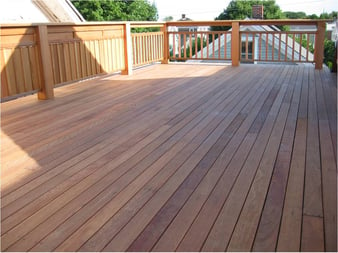 Eurotec Fastening Options for Rooftop Decks
Eurotec Rooftop Deck Installation Guidelines