Paduak Hardwood Custom Crafted Jewelry Box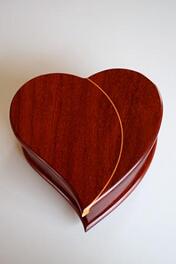 Local craftsman Terry Danielson created a unique, custom made wooden jewelry box for his daughter-in-law. The beautiful handcrafted hardwood jewelry box is a work of art. Handmade from Paduak hardwood with a maple inlay, the craftsmanship in Terry's work is evident. The heart shaped design was cut from a piece of Paduak hardwood, an exotic hardwood species from Africa that has good strength and a rich interlocking grain pattern. Paduak is a gorgeous orangey brown color that will darken to browner tones naturally as it ages.
To get the maple inlay to fit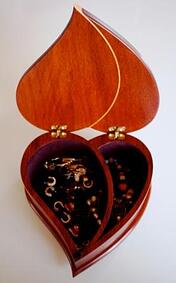 properly into the design, Terry meticulously sanded both the maple and the Paduak for a perfect fit of the two wood species. Terry used multiple coats of Water-Lok to finish his hardwood project to a beautiful luster. Paduak hardwood is a great wood species to consider for a number of different custom woodworking projects.
Learn more about custom wood working services, Paduak hardwood and other domestic hardwoods by following any of the links below: