Bill Rivero is a well known local wood lover and wood carver. Like many members of the Mystic Carver's Club, Bill has a real talent and great love of wood carving. Bill often dares to use hardwood species that many other carvers find extremely difficult to work with. That doesn't stop Bill; if he sees a piece of wood that is beautiful and has attractive graining or figuring, he will hand carve it to the delight of friends and family.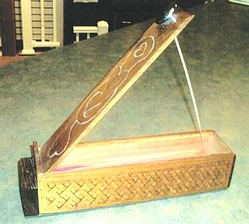 This beautiful handcrafted incense box is made from teak with basket weave carving and abstract design for the top with a stainless steel handle. This hand carved teak incense box shows that teak is not just for boats but can be enjoyed by everyone on land or on the sea.
Bill carves a wide range of items from hardwood tikis, hardwood boxes, framed relief pictures, candle holders, canes, walking sticks, signs, kubotans and many more unique hand carved treasures. While Bill's woodcarving style is very diversified, his basket weave handcarvings are easily recognizable due to their richness, depth, complexity and beauty.
For additional information about teak or other wood options please visit our website or click the links below: