South American Genuine Mahogany Clock
Fred Serluca, a highly skilled woodworker and craftsman has his latest project coming deep from the ocean depths. This beautiful brass clock is mounted in a South American Mahogany. The clock itself was originally used on the nuclear powered submarine USS ALEXANDRIA, which was commissioned in 1991 and is based in Groton CT.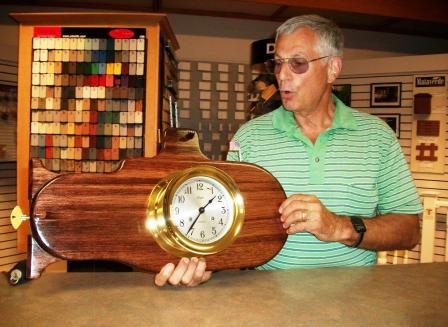 Fred had to work very hard to clean up the clock to restore it to its original beauty. Fred also fixed the inner workings which is why the clock was replaced by the Navy. The propeller is also the key which winds up the clock.
The part of the story which really stands out to me is that Fred is dedicating the clock to his longtime friend Brendan McGuirk who is battling a serious illness. Fred has done some wonderful projects using many of beautiful hardwoods and continues to show that his skill as a craftsman of fine hardwoods is only matched by his integrity as a human being.
Please visit our website to learn more about genuine american mahogany, other exotic and figured hardwoods, woodworking projects and custom woodworking: