Secrets to an Amazing Kitchen Design: Step One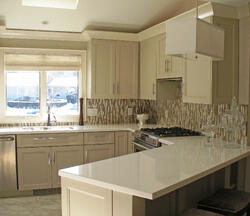 Congratulations! You've decided to redesign your kitchen. For a brief blissful moment you imagine the sweet sounds of sledgehammers tearing into outdated cabinetry and popcorn ceilings. Rather quickly and cruelly, giddy anticipation often turns to panic in the face of SO MANY impending renovation decisions. The kitchen design process can be a little overwhelming. We will show you in this article where to begin.
FIND YOUR STYLE - Deep breath. The best place to start when embarking on a kitchen redesign is to determine your style. Traditional kitchen? Contemporary style? Something in between? OK, you may think you know, but try this: collect photos of kitchens and spaces that speak to you. The resulting "albums" will uncover common threads to help you select cabinetry profiles, lighting, colors, and so much more. What you didn't know about your tastes might surprise you. Jot down your ideas. Make a folder. Have some fun!
WHERE TO LOOK - Magazines, pictures of friends' kitchens, Instagram, newspapers, Google image searches, cabinet manufacturer's websites. These are all good tools and places to start your kitchen planning. Websites like Pinterest and Houzz offer great collections of gorgeous kitchen photos. Create "books" and "boards" of what piques your interest while familiarizing yourself with kitchen design trends. Discover what you love about kitchen cabinetry, island design, custom molding and more. Find a gorgeous color that makes your heart race? Save it. Could be the show stopping paint color for your new kitchen island.
LOOK WITHIN – How, and who, will use your new kitchen? Are you and your spouse 6'-3" entertainers that need extra tall cabinets and ample space for dining and parties? Do you bake so much your friends call you "Cake Boss"? Have a houseload of kids? Teenagers? Empty nester? Maybe you have a dog at your feet for whom you'd like to carve a little under counter space. Consider too what's working (or not) in your current kitchen.
When you are ready for professional help, all of this information and your photo homework will be used by an experienced kitchen designer to help create the kitchen of your dreams.
Stay tuned for our next installment - how to identify the right designer for your kitchen project.
We love what we do ... and you will too.