General Woodcraft has been providing marine grade lumber to marinas and boat builders for decades. Our New London, CT warehouse stocks all the common solid woods for marine use, such as teak and mahogany. We also stock a wide array of marine grade plywood from fir to Okume in sizes from 1/8" to ¾" to satisfy all your boat-building needs. In addition, we are one of the largest distributors of tropical hardwoods which is perfect for docks, boardwalks and for siding of boathouses and outbuildings.
Boat builders and marinas have relied on the high quality lumber of General Woodcraft for years. We supply white oak of varying thicknesses for structural framing members. We have substantial stock of both genuine and Philippine mahogany which works, glues, and finishes well making it ideal for interior and exterior work, from ribs and planking to finish trim. For inside the cabin we have a wide array of hardwoods like cherry and walnut, both traditionally used as interior woods. And, of course, we have teak to make your boat look oh so pretty.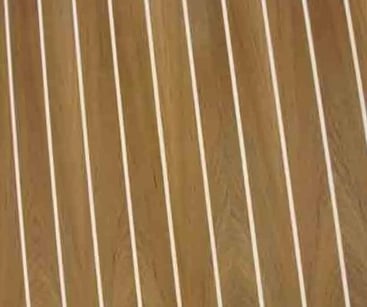 Plywood is used all over a boat from floors and partitions to hulls and transoms. Whether you're building a boat from scratch or just doing some repairs, we have the plywood to suit your needs. Where strength and durability are a concern, we have various thicknesses of marine grade fir. If weight is an issue, marine grade luan plywood is a good, economical choice. Okume plywood has become the go-to 'gold standard' for the boat building industry. Its combination of beauty, flexibility and light weight makes it the perfect choice for everything from hand made kayaks to hydroplane racing boats.
Not only do we have you covered on the water, but we have what you need around the dock or marina as well. As one of the leading importers and distributors of tropical hardwood in the North America, we have in stock hundreds of hundreds of thousands of feet of Ipe, Cumaru, Garapa, and Machiche. These woods are ideal for decks and docks. They are extraordinarily durable as well as low maintenance. Our decking can be found around the country from NYC to Sarasota, Los Angeles to Seattle on everything from marinas to boardwalks, residential homes to high rise apartments.
Tropical hardwood is not only ideal for decking but makes amazing siding as well. The same low maintenance and high durability found in our decking can be applied to your walls as well. It is an easy to install, elegant solution for any restaurant, office or outbuilding. Whether it's for a marina, pier or your own back yard, we have you covered.
DOWNLOAD IN-STOCK MARINE PRODUCTS AND SERVICES LIST
It's almost time to get the boats in the water. Let us know how we can help with your project.