GENERAL WOODCRAFT KITCHENS
At General Woodcraft, we have the knowledge and sophistication to meet your kitchen design goals - on time and on budget.
Your kitchen is the most personal room in your home. Kitchens are the center of family life and the focus of entertaining. The kitchen is where family and friends gather, where children do school projects, where adults sort mail and pay bills, and where you can have a few quiet moments with a good cup of coffee. Your kitchen has to be a room you love.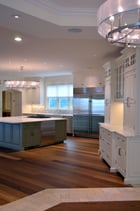 When building a new home or remodeling, you want to get the overall ambiance of the kitchen, and all the little details right. Every kitchen is different. And your ideal kitchen should fit you and your lifestyle like a glove.
That's why our process is personal. We can design a kitchen that truly serves your needs once we know you and your family—how you use the kitchen and how often, how you like to cook and your style of entertaining, your tastes, your collections, your pet peeves and your favorite things.
Designing your ideal kitchen is often the realization of a long-held dream. We make realizing that dream fun. We involve you in our kitchen design process from the very beginning and every step along the way because we believe that...
Your journey should be as rewarding as your destination.